2018 Incidents
Fire
Medical
Total
Jan
36
43
79
Feb
22
46
68
Mar
34
40
74
Apr
29
36
65
May
29
46
75
Jun
30
51
81
Jul
31
49
80
Aug
Sep
Oct
Nov
Dec
Total
211
311
522
Past Incidents
Fire
Medical
Total
2017
330
484
814
2016
356
402
758
2015
373
376
749
2014
426
430
856
2013
366
451
817
2012
380
431
811
2011
362
445
807
2010
300
422
722
2009
262
426
688
2008
327
448
775
2007
322
469
791
2006
333
465
798
Web Counters
Website Visitors
Since
January 1, 2012

Visitors Today
Aug 15, 2018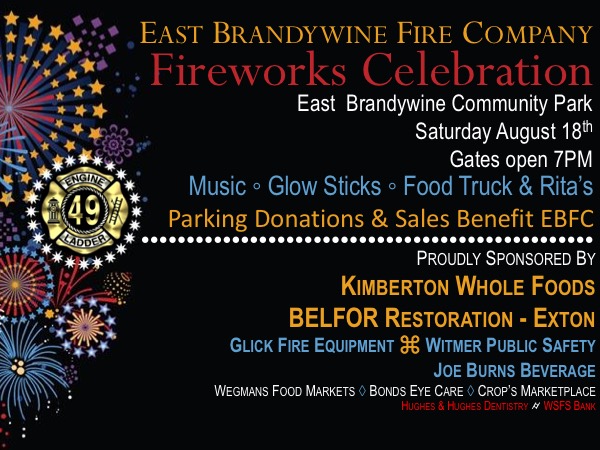 Heavy Rains Result in Multiple Emergencies

East Brandywine Fire Company , August 13

On Monday August 13th, slow moving storm cells brought heavy rain and associated flooding to the area. As a result of the dangerous conditions created by the flooding East Brandywine Fire Company volunteers responded to multiple emergencies.

One of the emergencies included three people trapped by rising water on Little Washington Road as well as an accident on Route 322 caused by debris in the ... (Full Story & Photos)


Preventative Maintenance is an Essential Component of Providing High Quality Service

East Brandywine Fire Company , August 10

One of the aspects of the emergency services the Community rarely has a opportunity to see is the time, effort, and funds that are put towards caring for our equipment. Routine preventative maintenance is an essential component of providing high quality emergency service

Today ESI Equipment Inc. was at the Station performing rescue equipment upgrades and preventative maintenance. Once a year our ... (Full Story & Photos)


Early Evening Automobile Fire

East Brandywine Fire Company, August 06

During the early evening hours of Sunday August 5th, East Brandywine Fire Company volunteers responded to a report automobile fire on Route 322.

Chief 49 arrived on scene shortly after dispatch and indicated that the fire had been contained to the contents in the bed of a pick-up truck.

The fire was quickly extinguished and the Company was available within 30 minutes. ... (Full Story & Photos)



Deputy Chief Joe Edwards, FF/EMT Peat, Lt. Raymond

FF/EMT Aidan Peat Graduates from FF1

East Brandywine Fire Company, August 04

The Line Officers and Members of East Brandywine Fire Company would like to congratulate FF/EMT Aidan Peat for recently completing Fire Fighter 1 training.

FF/EMT Peat attends Penn State University and participated in the accelerated FF1 program conducted at Montgomery County Fire Academy. This program allows busy college students the opportunity to complete their training over summer break.

In ... (Full Story & Photos)


T3 Training: Rural Water Supply Refresher

East Brandywine Fire Company, August 02

On Wednesday evening August 1st, East Brandywine Fire Company volunteers participated in a rural water supply training.

Lt. John Needles walked the participants through all aspects of establishing a fill site, setting up a porta-tank, and optimal logistics to maximize efficiency associated with water supply.

Lt. Needles impressed upon the group that while this is a "low frequency" event the ... (Full Story & Photos)

Company Responds to a Van Fire

East Brandywine Fire Company , July 12

On Sunday July 8th, East Brandywine Fire Company volunteers responded to a reported van fire in the 400 block of Creek Road.

Upon arrival Deputy 49 reported the van which was located off the road on a property had significant fire involvement. As a result of the vans location on the property first arriving personnel had to stretch a leader line in order to reach the fire.

The fire was quickly ... (Full Story & Photos)


Local Man Runs 49 Miles in One Day for Station 49

East Brandywine Fire Company, July 12

During the early morning hours of July 7th Mike Mize set out on an incredible journey. His goal, to run 49 miles in one day to help raise money for Station 49.

Mike left East Brandywine Fire Company just after daybreak and completed his run just before 8pm.

Mike came up with the idea to raise money after his wife had been involved in a auto accident and the Fire Company responded to assist her. ... (Full Story & Photos)

Company Responds to a Reported House Fire

East Brandywine Fire Company , July 06

On the evening of Tuesday July 3rd, East Brandywine Fire Company volunteers responded to a reported house fire in Upper Uwchlan Township.

Engine 49-1, Engine 49-5, and Ladder 49 made the response with 20 volunteers in total. The Company was on-scene for only a short period of time after arrival as the emergency was quickly mitigated.