Knox Box Program
As a property owner have you ever stopped to think about what would happen if there was a fire or medical emergency at your property but all of the doors were locked? How would the fire department or emergency medical personnel gain access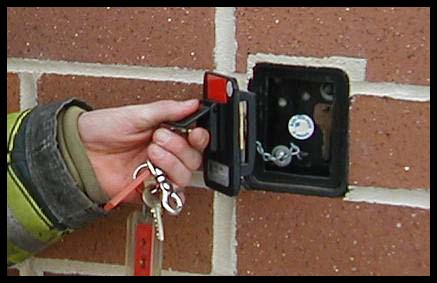 to your building? Without a key readily available it may be necessary to force entry resulting in costly damage to doors and windows and delaying access to the emergency. While the endKnox Box In Use result may justify the means, forcible entry is a last-resort and can be avoided. In order to provide a faster and more secure service to our community, East Brandywine Fire Company has adopted the Knox-Box Rapid Entry System.
The Knox-Box Rapid Entry System is a secure emergency access program developed for property owners and fire departments. When a fire breaks out or there is a medical emergency, a Knox-Box allows immediate entry into the building without forced entry damage or delay. Property owners store entrance keys, access cards and/or floor plans in high-security Knox-Boxes mounted near building entrances. Once the incident has concluded the department re-secures the property and returns the entrance key to the Knox-Box. Each Knox-Box is purchased by a property owner and is keyed to a single master key controlled by East Brandywine Fire Company.
A Knox-Box eliminates the need for forced entry in the case of an emergency, thus avoiding costly and time-consuming efforts to gain access into the building. Here are just a few reasons for a Knox-Box:
* Eliminate needless, costly forced entry damage that may not be covered by your insurance deductible.
* Assure immediate building entry by firefighters without delay or waiting for building keys.
* Protect inventory, equipment and supplies from unnecessary water damage caused by delayed sprinkler shut-off.
* Save time and aggravation by not having to drive to your building at 2:00 am for a false alarm.
* Feel secure about emergency coverage when your building is left unattended. The fire department holds the only key to the Knox-Box.
* Maintain building security after a fire alarm investigation by simply re-locking the undamaged door.
Consider installing a Knox-Box if any of the following apply:
You or a family member have limited mobility

You or a family member suffer from a medical illness or disability

Your property has a monitored alarm system (ADT, Xfinity, etc.)

Your building is an apartment building or a house that has been divided into separate living units
If you have questions or would like to purchase a Knox Box® for your business or home please contact scottpiersol@ebrandywine.org.